If you've ever played a tabletop RPG, you probably know what it's like to love a magic item. You probably remember how you got that first game-changing piece of equipment, be it from a monster's horde or a hidden treasure chest. You probably cherished it and kept it for the entire lifespan of your character (or at least until your DM moved to another town). In fact, that magic item probably became a key part of your character's identity.
On the other hand, if your only experience is with computer RPGs, you might not know what the hell I'm talking about. Character equipment is not only a defining characteristic of RPGs, but one that is widely assumed to be of great importance in the age of market-tested game development. Yet in many RPGs, item design seems like little more than an afterthought. Wagonloads of magic items are joylessly awarded throughout the game, with no evidence that actual creative work went into any of them. So what gives?
On closer inspection, it's not entirely surprising that computer RPGs have been mostly unsuccessful at reproducing that tabletop feeling of "love at first loot." For one thing, there's no DM in computer RPGs to tailor rewards specifically for the PC. For another, there's a tendency to dole out more loot in computer RPGs, which has the effect of diluting the importance of any one item (more on that later). And then there's the depressing fact that designing items is a finishing touch in an industry where
finishing touches
increasingly take a backseat to
publishing deadlines
.
"Precious? Eh, not so much."
But assuming developers had the ability and resources to create truly compelling magic items, what would they look like? Here are some of the characteristics that I think make magic items stand out as something more than vendor trash.
But first a quick note. Obviously, the terminology here is oriented toward fantasy RPGs. However, many of the points could apply equally to sci-fi and other settings. Just substitute "high-end equipment" for "magic items." There, now let's get to it...
Magic items should be rare
The most common problem with magic items in RPGs is that there are just too damn many of them. When magic items can be found in every dingy little shop, on the corpses of low-level enemies, or even in barrels sitting on the street, they lose a lot of their rightful mystique. And of course, crafting is the ultimate example of magic overload, as it allows players to put together their own items as if they were Christmas toys with "some assembly required" printed on the box.
Clearly it's time to turn the Rust Monsters loose.
There's no mystery why this is the case. Players want magic items, and the knee-jerk answer from designers is to give them
a lot
of what they want. However, in so doing, they sacrifice some of what makes magic items desirable in the first place.
Magic items should be impressive
One or two weapon slots. Armor. Boots. Gloves. Amulet. Two rings. The "paper doll" used to outfit characters is perhaps the most standardized UI element across RPGs. Players expect those 7-8 inventory slots, and they expect to be able to fill each of them with a magic item.
Diablo cut its paper doll off at the crotch, an innovation that mysteriously has not caught on in other games.
Unfortunately, all those slots - and the cumulative power of the magic items waiting to fill them - have the potential to ruin the game's balance. As a result, cautious designers often come up with items that are overly weak, with incremental bonuses so mild that you can't perceive them in actual gameplay. Conveniently, those sorts of tepid magic items are also easier to implement. It's much less work to slap a few ability enhancements on an item, or have it mimic an existing effect, than to endow it with new and unique powers.
The result? Boredom.
Along with being scarce, magic items should be powerful and unique. Not so powerful and unique that they overshadow the PC's character build, mind you, but at least enough to have a noticeable impact on gameplay.
Magic items should have character
Most of the design changes in RPGs these days seem to be aimed at reducing the amount of reading players have to do. I don't doubt that players hate to read, and thus tend to completely bypass things like item descriptions. But while that may have implications for how RPGs impart information to the player, it doesn't mean it's OK to neglect things like lore and backstory - especially when it comes to magic items.
In fact, magic items offer a great opportunity to acquaint players with the game world. It's like giving players a tangible piece of the setting's history that they can carry around with them (a piece of history that can, potentially, be used to kill things). Of course, many players may choose not to learn anything more than the basics, just as with any other piece of lore. All I'm saying is, I'd rather learn about the history of a famed dwarven clan through one of their relics than listen to Cromjar the Living Encyclopedia drone on about it.
Give me the short version, Cromjar. Get it - short version? Ah, dwarf jokes.
But more pertinent to this discussion, giving a magic item a unique backstory simply makes it more interesting. Having high stat bonuses is cool. Having a story to tell... way cooler.
Magic items should be made to last
Most games treat inventory slots as revolving doors where magic items are constantly swapped in and out throughout the game. In fact, much of the player's time is spent evaluating different pieces of equipment against each other - a task made more tedious by the incremental bonuses mentioned above.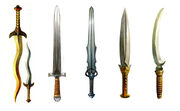 Gosh, do I want the Deadly Scimitar of +2% attack and +4% damage, or the Vorpal Short Sword of +4% attack and +2% damage?
If magic items are to be treasured by players, they need to remain relevant for a significant portion of the game. Making them more rare and powerful would obviously help here, but there are other strategies as well. For one thing, items can be made upgradeable. In fact, plenty of games already do this with "tack on" properties such as those provided by the runes in
Dragon Age
.
However, a more satisfying solution - and one that jibes with the goal of giving items character - would be to make the upgrades intrinsic to the item. In other words, players could gradually unlock new abilities through skills, paying NPCs, solving quests, or simply by using the item enough. If done well, unleashing the full power of an ancient relic could be a compelling sidequest in its own right.
Magic items should be precious
Looking back on this list, I don't think many RPGs have done magic items well since the Infinity Engine games (then again, I don't claim to have played every RPG that's come along since then, so please correct me if I'm wrong). Those games had the advantage of being set in
The Forgotten Realms
and therefore benefited from a huge stable of existing magic items just waiting to be implemented. That was also a time when single-player RPGs didn't take their game mechanic cues from a certain MMO that will remain unnamed.
Yeah, that one.
I think single-player games should look elsewhere for inspiration. Something about those tabletop games is effective at bringing out the inner Gollum in players. There's no reason computer RPGs can't do the same, if - and
only
if - designers willing to give magic items the attention they deserve.